Saturday

We ended up leaving a little earlier than intended. We was going to have to work until noon, but got off about an hour early. Ron and I met at Publix to buy some things for the trip, then went to Brueggers (it was necessary that I have a bagel). Did you guys know I am the most boring person in the world? Plain bagel, plain creamcheese... Ron says I'm "classic" but we'll see. I'm thinking more along the lines of "unadventurous."

I am F88!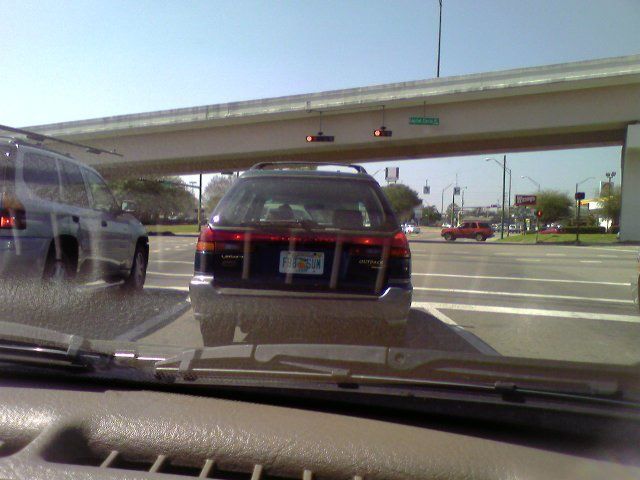 I had intended on driving, atleast to the end of I-75, but with the bagel in my hand.. yeah. Ron drove the whole way. The trip down was fairly uneventful. Lots of music, lots of talking.

We stopped in Gainesville for lunch, knowing we wouldn't get to eat dinner till atleast ten. Taco Bell at Butler Plaza. I remembered why I do not like Taco Bell.

We met up with Andrea at the hotel, put stuff down, etc. It was a pretty nice hotel for the amount we paid. I liked the curved shower rod, specifically.. heh. We laid down and then... this is where it gets exciting. Our fabulous trip to Orlando, and for about an hour we.....ASKED EACHOTHER LATIN ONE CERTAMEN QUESTIONS! We are definitely the coolest people ever.

We had plans for 8:30, to be at the nearby suburb of Sanford to go to the Seminole COmmunity College Planetarium, but we had a couple hours to kill, so we went to the Florida Mall, where we ..well, we got exercise walking around, but didn't really do anything. Back to the room for the directions, and then on to the Planetarium.

Not that Planetarium shows aren't interesting, but we pretty much went for the purpose to meet up with Derek (who runs the shows at the P), a friend of Andrea's. The show was actually fairly informative and good I found out that my birthday is actually during the time that should be Scorpio, not Sagittarius. And of course, Scorpios are EVIL. So that explained a few things.

After the show everyone went outside to look through a pretty powerful telescope. I saw the moon and I saw Mars, but by far the coolest thing I saw was Saturn. Holy crap. It looked like it was a cut-out, hanging in a diorama. It was amazing.

Aaaand then after that, Derek, Andrea, Ron and I went over to the Orlando Ale House (not the same one, Sara-- and FYI The Twin Towers are now a DOUBLETREE HOTEL). During dinner I commented that the salt and pepper shakers were really cute (they looked like little mugs). After we left the restaurant, Ron took them out of his pockets. Let's go with "cute" instead of "klepto," yes?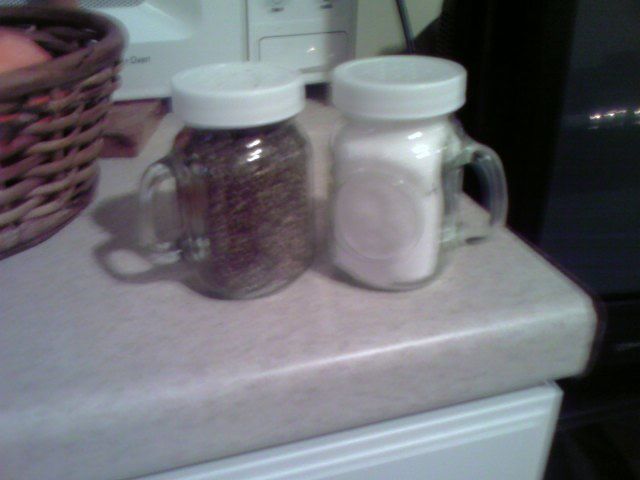 After dinner, we planned to go bowling. We drove over there, and realized that when Ron took the shakers out of his pockets, the ring that he wears of mine (the "Melissa" one that I've been wearing since Stacy gave it to me for my 20th birthday) had fallen off. So the trip to the bowling alley was spent squishing my hand between the seats and silently weeping over sentimental stuff.

When we got to the alley, Derek and Andrea went in while Ron and I looked for the ring (which he found, eventually) and before we could go inside, D & A came out saying there were no lanes available. Soooo we drove back to Orlando to see if there were any lanes at the bowling alley near our hotel. Well, it didn't look packed, but apparently you have to get a lane by 10:30 if you want to bowl on Saturday nights, and it was a little after 1.

We went back to the hotel room (this time with Derek) and ended up... yeah. Certamen questions. Derek, being a Astro-physicist who does Planetarium shows on the differences between Astronomy and Astrology, knows a fair amount of myth, since it's the stories behind the constellations. The night was getting long, so eventually Derek left, and we went to bed.

Sunday

Despite Andrea saying she wanted to sleep in till 10:30, when I woke up around 8:30, she was already dressed, and had brought me a bagel from the continental breakfast (plain bagel, plain creamcheese). I took a shower, Ron took a shower, everyone got ready, and we watched Spanglish as we did so. I'm not sure when we left for the park. 9:30? 10? Somewhere around there. Universal was just down the road, so it didn't take very long at all to get there.

I was expecting somewhat-long lines, but they didn't exist. We got in, and immediately went to the Hulk-- 20 minute wait. I love the thrill of rollercoasters. And I LOVE LOVE LOVE the Hulk.

After that, Spiderman. It's so neat how the human mind is tricked with 3-D rides. I was honestly scared. (15 minute wait).

We ran into the Grinch at some point, and I had to take a picture. I told him the secret, "I'm Jewish, I don't like Christmas either" (which is a lie, but whatever) at which point he squeezed me and gave the camera a huge thumbs up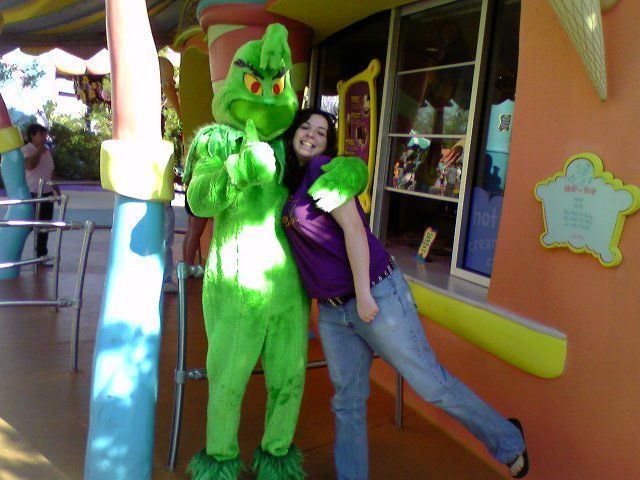 We got incredibly, incredibly soaked on the next ride, Bilge Rat Barges. I don't remember getting that wet before, but I was soaked from head to toe. Particularly my jeans, and even more particularly, my butt.

Since we were already wet, we headed over to the Jurassic Park ride.. which was bo-ring, and we didn't even get wet.

To get dry, we went to Dueling Dragons. Nothing dries someone off better than flying through the air. we rode Ice and then Fire. Ron and I took the short while we waited in line as an opportunity for pictures: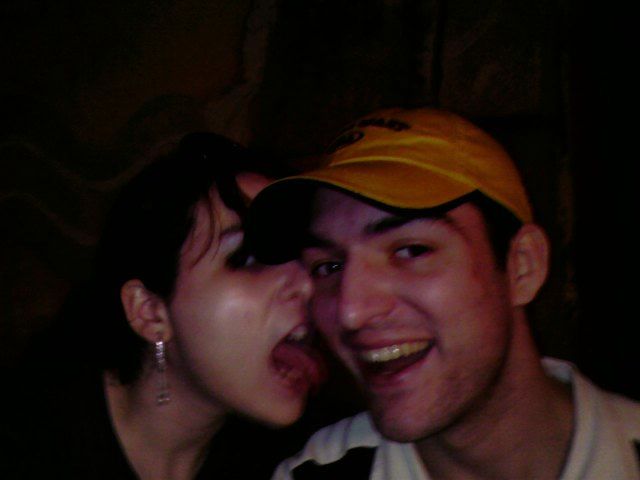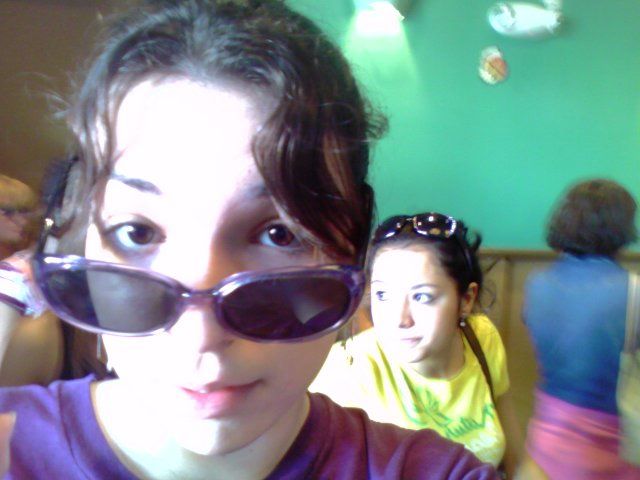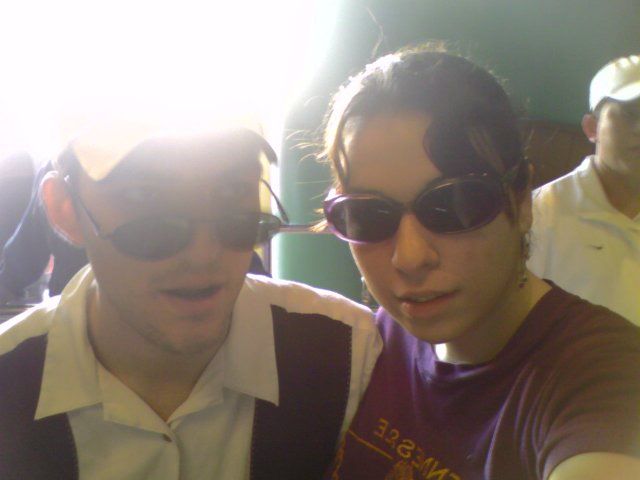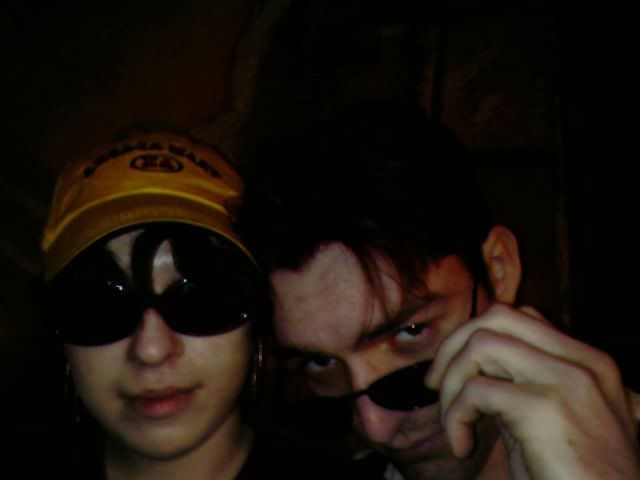 Andrea was a bit more camera shy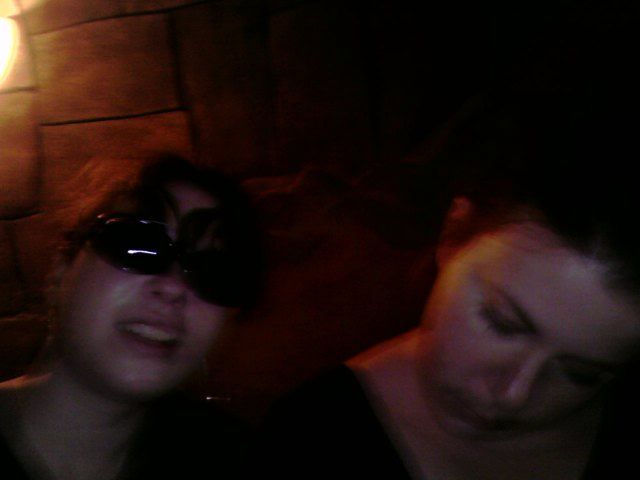 Previously I've liked Ice better, but this time, the second drop in Fire gave me this utterly fantastic lighter-than-air, flying feeling, so I've changed my loyalties. Neither time we went on it did Andrea see the ultra cool part where it looks like you're going to collide with the other coaster. That makes me sad, as I think it's the coolest part. Oh, and whats up with "FROST" and "TORCH" -- are Ice and Fire too scary now?

After the dragons, we went to Mythos for lunch, where they had incredibly awesome square-bottomed glasses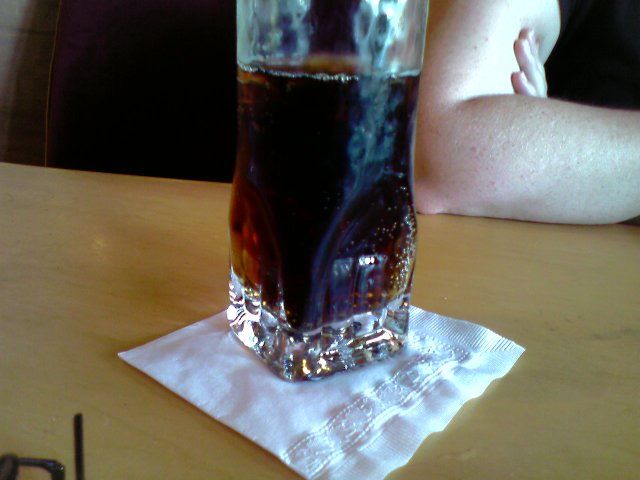 . Of course, the food wasn't bad, either.

Thennnn we went to Poseidon's Fury, and then the Eighth Voyage of Sin(d)bad. Both were mediocre. I'm more of a thrill type of person when it comes to theme parks. We talked to the fountain somewhere in there too, but there were all these little kids around, so we couldn't have a real conversation (like Sara and I did... with the fountain... for an hour...).

We had one more ride that we wanted to do --I'm a sucker for the Cat and the Hat-- where we had terribly inappropriate conversations in line. We are the people you don't want your kids around, for sure.

It was like 4:30 by then, and the park wouldn't close for another 2.5 hours, but we had seen and done all there was to see and do, so we left to go outlet shopping.

On the way out, Andrea bought a $8 margarita from a stand in CityWalk. I had a few sips and consequently got a headache. I guess I drank it 15 minutes too early? ;)

I learned something. Outlet shopping does not save you money. Shopping = spending money. Now, if there is something that you NEED, its probably cheaper at an outlet mall... but otherwise you're buying things you don't need. I was good, and told myself that, which is why I don't have a plethora of new purses.

Andrea picked up Trivial Pursuit Book Lovers Edition, and we sat in the food court and played for a little while. Surprisingly, with all that we read, we weren't very good at it. I was mortified. Also, because I missed a Mr. Rogers question :( Looking at all the board games I realized how much I really can't wait for Harry Potter 7 to come out, even if it's only because I want HP Trivial Pursuit!

We drove around for awhile looking for dinner that night. At one point we pulled into a restaurant named Fish Bones, where they had complimentary valet parking. He pretty much stole my car, yep. I found out why they do it, though. I bet most of the people there are tourists (and don't know the prices), and once they complimentarily park your car, you feel guilty if you don't stay for the $35/person meals. Well, we didn't feel guilty. We got the heck up out of there. We drove around more, and finally ended up at a Logan's steakhouse. Awesome waiter, awesome bread, yay for peanuts and the throwing of the shells, but uh... they overcooked my steak (I asked for medium well and it came back with well-picks in it) so they took it back. They had forgotten our salads, which they finally brought, and Andrea's veggie skewer, which they brought out late also. The salads had bacon and the waiter must have seen my disappointment. I said it was fine, intending to just pick it off and anything it had touched, but he brought me a new salad, saying that since they got my meal wrong, it was the least they can do. Then my steak was taking forever, and then it came back with a grey inside (def. well done) and through no complaining whatsoever, my meal ended up being free. Thank you, Miss Manager Lady. So that's cool.

Orlando was fabulous, and I was really glad that Ron came along, and I told Ron that as we were leaving the restaurant. We took a couple minutes to kiss by my car.. and then realized we had an audience in the next car over. Whatever ;)

After dinner, we got back on the road. Ron drove till a little before we got on I-75, and then I drove the rest, with a stop in Gainesville for gas. We went to the Kangaroo on 34th, and I was astonished to see a) The huge La-Z-Boy store across from Homestead, and b) THE LACK OF ARCADIA!?! What the frack, people? I loved that restaurant. We also drove by Sterling University Glades to see whether it had changed to a "Down Under" as Sterling University Grove (in Tallahassee) had. It hadn't.

Got some caffeine to wake me up (monotonous highway driving at night sucks). We got back in town around 2 am, where I promptly fell asleep. Ish.