Proprium humani ingenii est odisse quem laeseris - It is human nature to hate a person whom you have injured
I'm so sorry to the friends pages I killed earlier :( I posted the picture, not realizing how huge it was, and then was called away before I could look at it online :( Sorry again.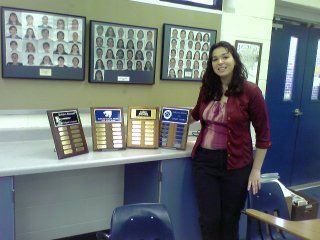 Me with my *four* plaques (Spirit Award, Consul's Award, Nobiles Romani Award and Most Active Award)-- there are only five plaques total :), and the pictures from my 9th, 10th, and 11th grade years (all the people who went to State Latin Forum from Godby). 12th grade it was just me, Sara, and Seana, so instead of the huge thing, we got her a mousepad with our pictures on it.