(
Collapse
)
I had a fabulous day today :)
These pictures are from yet another fabulous day, though.
Isn't my boyfriend cute?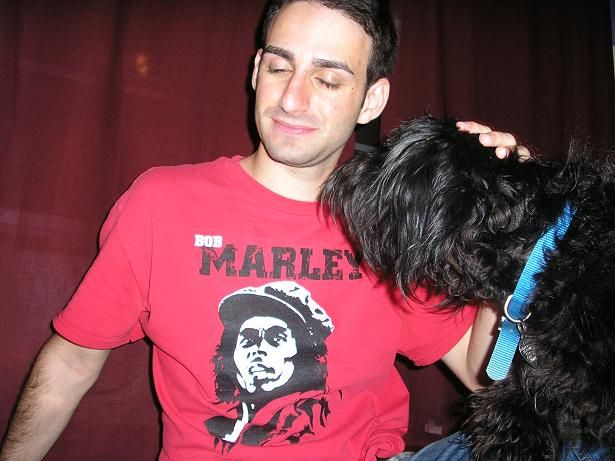 Oh, and isn't Matt cute, too? ;)
(
Collapse
)
The day was fantastic. Waking up next to Matt is the best thing ever. Of course, without ibuprofen, my tooth was killing me and my gums were feeling really sore and puffy, so I went back home to get orajel and drugs, and then to get ready for work.
Lively was fun this morning. Last time I went, it was paperwork and copying. I felt like a VISTA doing the work of a receptionist. Yuck. Anyway, today I tutored two different women in math for their GED tests. We worked on fractions and decimals. By the end of the class, apparently the word got around-- and lots of people want me to tutor them! I can't, but it's nice to feel wanted like that. I made sure I was explaining things clearly and in several different ways, and relating real life, and all that. I was pretty happy with the progress my students made. Tutoring isn't technically "indirect service" like VISTAs are supposed to do...but I'm going to look past that and be grateful I'm not filing. Plus, its fun, it's keeping my mind sharp, and I'm helping people :)
Then did lunch with Sara. We went to Wendy's-- I hadn't been there in years and I hadn't been to this PARTICULAR Wendy's since the days of going there with my gifted class at Griffin after seeing YAT plays. I think they completely remodeled, but we saw some school buses go by, and I was like, "awww." I had their mandarin chicken salad and fell in love with their sesame dressing. I think it might actually be on my salad dressing list of all time, which includes Mori's ginger dressing and Applebees Oriental dressing. Sara and I decided that we should "do lunch" once a week. Since we lead totally and completely different schedules, it sounded like a good plan so we actually get to see eachother. Also, we have to figure out a non-lunch time for us to play.. HARRY POTTER SCENE IT!
I made flyers all afternoon (at the LVLC office) for a Spelling In-service we're holding for our tutors and for our Tallahassee Little Theater production benefit (raffle posters and regular posters). And then ... I was asked to write a grant. Me. Trusted with a grant. Holy sheesh. I have no idea where to begin. Luckily, Ellen said she'd work on it with me. I've never written a grant before. The closest I've come to doing something like this is practicing persuasive Florida Writes-- which I haven't done since high school.
Tonight
(
Collapse
)
hit the big
(
Collapse
)
so I took Deborah for the evening so they could have some time alone. Dumpster and I went to go see Matt (so they could meet) but then she and I did all sorts of fun things. We made dinner. We ate dinner. We discovered no sweets in my apartment. We made an icecream run. We watched TV.. and then... I fell asleep. Exhaustion is bad.
Took Deb back a little after ten, hung out with my parents for awhile (they were watching some documentary. Yay anniversary fun, heh) and then left, and my car began making a weird noise. I realized I was dragging along a piece of tree branch, got it out, and left again.. and it happened again. Scared that I had punctured my tire or something, I went back to the house, called my dad to come help me, and he pulled yet another tree branch from under my car. Where the heck am I going that I keep running over trees? I mean, my parents neighborhood is woodsy but sheesh.
Tomorrow I'm working at Ruediger in the morning with another, different GED class. Then the teacher there (who happens to be one of my mom's friends) and my mom are taking me out to lunch. Kind of as a "welcome to Adult Ed" thing. We're going to China First, since that's where my mom took me the first time I volunteered at Adult Ed (must have been 6 or 7 years ago atleast). Then back to the grind and some grant-writing at LVLC. And then, assuming that the fabulous Melissa gets off at five, I am going to do MORE fun things. Like laundry! HIP HIP!
Can I hear it for real LJ entries?