I'm not sure if I mentioned Wednesday night, in any other context than my incoherentness. If not, it was fun. Not Monday-fun, but still fun. We went to Harry's, to Snookers, and to a coworkers house. Approaching midnight, I got fairly sad for a variety of reasons, the most practical one being getting old. Overall it was a good time. Happy birthday to me from coworkers!

Thanksgiving was fine. We pretty much cooked all day. We made a ton of fabulous dishes, and one not-so-fabulous one. I actually ate T-day food for the first time in.. six? seven? eight? years. They couldn't force pumpkin pie down my throat though, so buahahaha! My mommy and sisters baked me a cake. Happy birthday to me from family!

Friday, Deb and I woke up at 5 am to go shopping! Got lots of stuff, but around 10 am, I was beat, so I went home to take a nap, while Vivi came and shopped with Deb for awhile. Thennn twas party time! Andrea came to visit (and is actually still here till Tuesday due to car problems, see below). We had a fun, lame party, with lots of board games and innuendos. Clayton bought me a house like I requested (okay, so its gingerbread, but still!). Happy birthday to me from friends!

At the party... Melissa, Vivi, Deborah, Andrea, Indira, Aras, Charles, Katy, Jeremiah, Joseph, Jay, Clayton, Alan, Bobby, Jennifer, Ben, Jackie... is that it? It wasn't a bad turnout. Mostly very close friends. We had fairly even teams for most of the games. My team came in second in Cranium. Girls won Battle of the Sexes. The team I was on won Taboo every single time.

And now pictures.

Making Thanksgiving Dinner. Dad, Debbie, Mom, me. Vivi was taking the picture.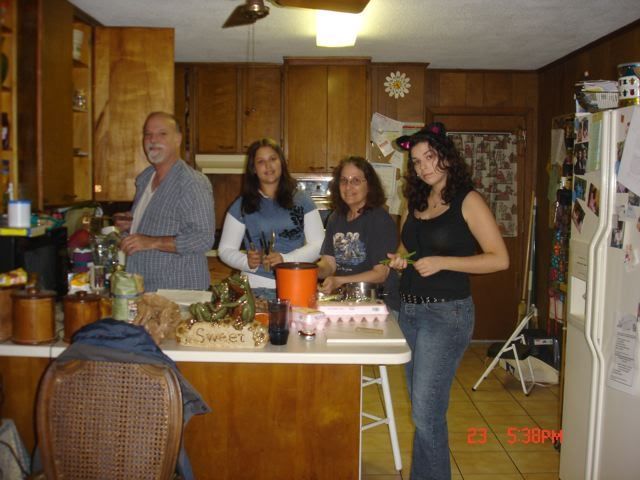 Thanksgiving Dinner on my birthday. Vivi was taking the picture again. You can see Bob the Pilgrim Pepper Shaker in the lower right hand corner.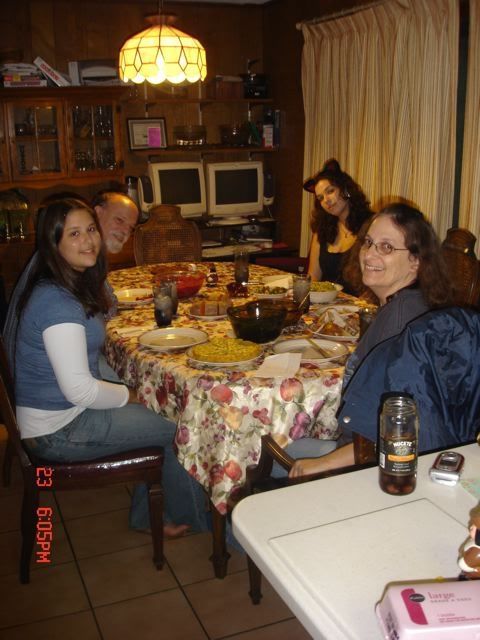 Birthday cake with the family. It said "21+1"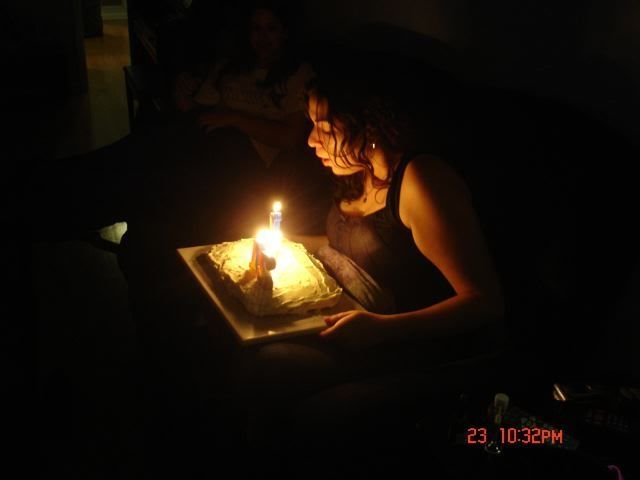 And then the friend-party. Lots of board games. Lots of lame fun. Here's Jeremiah "senso-sketching" for his Cranium team (Clayton, Katy, Joseph)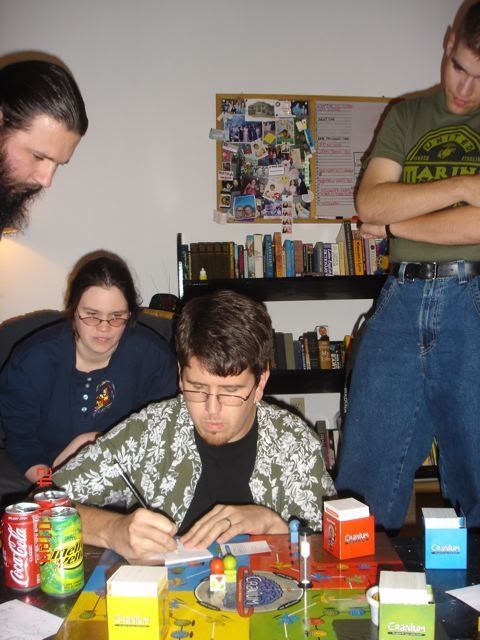 Andrea came to visit for the weekend. She doesn't know she's in the picture, though, because it was just supposed to be of the three sisters.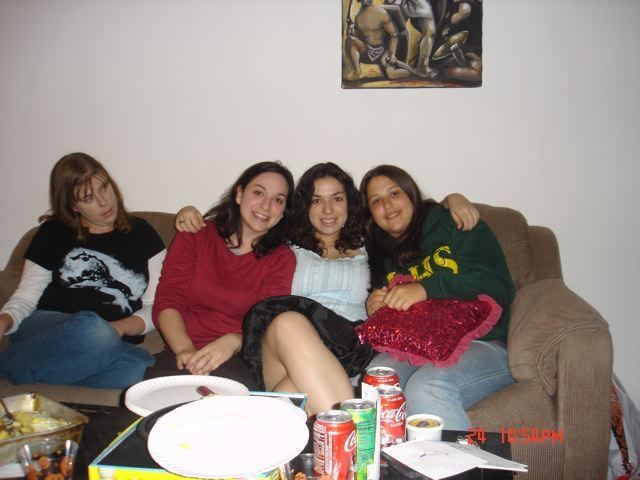 The Friday night birthday cake! (This one had a big "M" and then "one to grow on"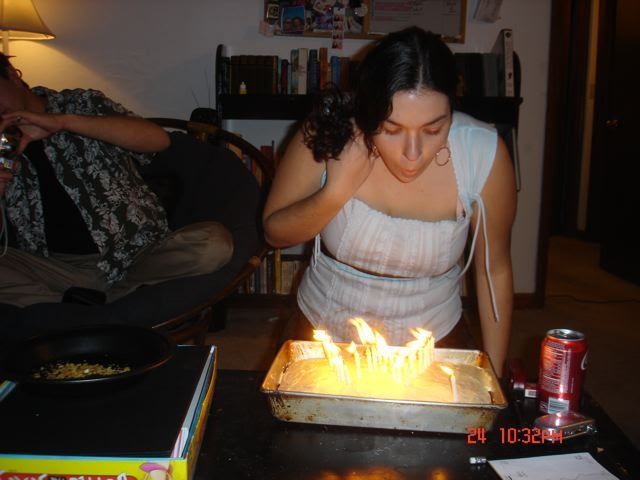 When Indira had to go, she tackled me with kisses. "22 woo-hoo!"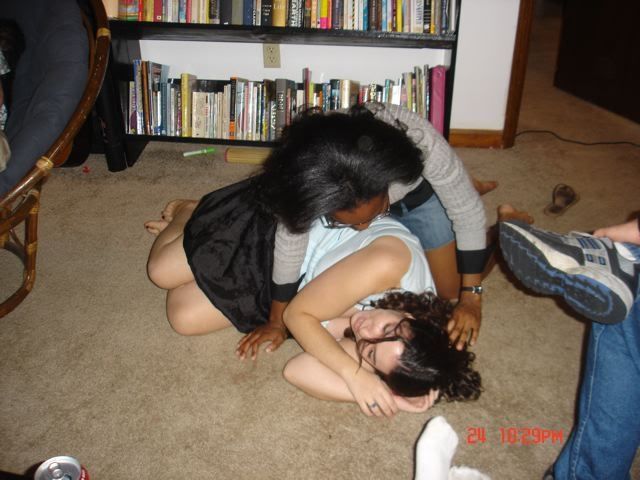 Lots of great presents that night (thank you to everyone!) but by far the most memorable? the Depends. Thanks Katy and Jeremiah!
(My hair is messy because of Indira)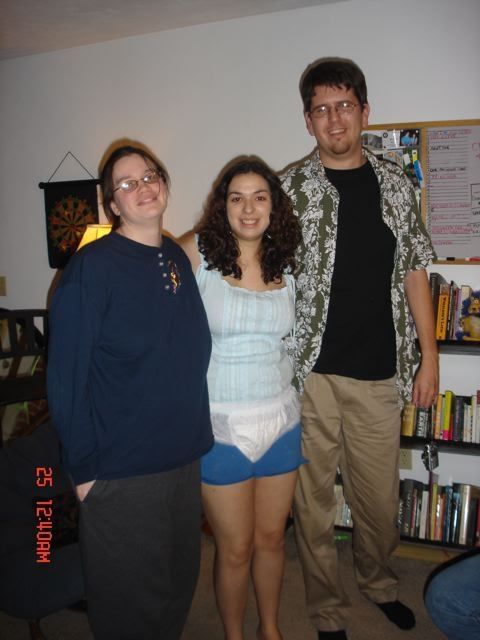 Saturday we woke up at noonishm, and we were on our way to a specific restaurant* that we love that doesn't exist where Andrea lives, when her car died rather suddenly. Between my AAA and my mom-and-sister rescue team, we got it over to the Saturn dealership, but she's stuck here till Tuesday, when it will be fixed. Then we went back to my apartment, hung out there while arrangements were made about Andrea missing work, and rested a little bit after the craziness. Also cheered that UF won.

And then over to my parents house for dinner. Tom Kha (Thai Coconut) soup, Eggrolls, and Cherry Pie.. with whiskey butter! We had originally intended on making heavy whipping cream into whipped cream for the pie, but we whipped it just a little bit too long and it turned into... butter! So we added whiskey. Sounds weird, but it was actually something that I had had on St Patricks Day that was really fabulous, and it was really fabulous Saturday night too. Yay whiskey butter!

Then, with everyone acting funny (either from tiredness or whiskey butter) we played cards. Deborah is going to be a hilarious, goofy drunk. In 7 years, that'll be fun.

Sunday... pancake messups at the 'rents house + the eating of the specific restaurant* food + Sara coming over + Trivial Pursuit + Desperate Housewives.

*If you don't know, you just don't know


---

I'm fairly upset with several of my very close friends right now. I have damn good reasons but don't want to toil the waters. So, passive aggression, woohoo!